Journal of Studies in Social Sciences is a peer-reviewed journal that publishes papers in all aspects of Social Sciences and Humanities, including but not limited to: Anthropology, Archaeology, Criminology, Economics, Education, History, Linguistics, Communication studies, Political science, International relations, Sociology, Human geography, Psychology, and elements of other fields as well, such as Law, Cultural studies, Environmental studies, and Social work.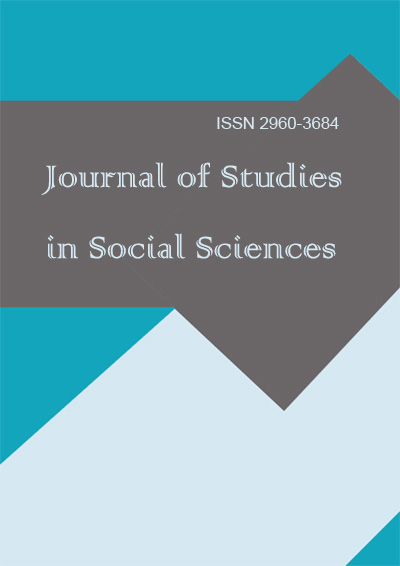 Vol 22 (2023)
Table of Contents
Research Articles
This study assessed effects of teaching performance standards on curriculum implementation and delivery in public schools in Bungoma County, Kenya. The study was objective was to assess if every teacher has complied with the teaching performance standards. The study was based on education production function theory, which places students' performance as function of teachers` quality of input/ curriculum service delivery. The study employed simple random sampling where two lists were prepared for public primary and secondary schools and 10% of the schools, teaching staff and deputy heads were randomly picked from the lists. Out of 73 primary, 29 secondary, 1971 teachers and 102 deputy heads a sample frame of 7 primary schools, 3 secondary schools, 197 teachers, 7 deputy head from primary and 3 from secondary were used. Correlation and regression were used in data analysis. The paper singles out syllabus coverage, lesson attendance, marking of learners' exercise books and teaching/learning Aids as major factors influencing curriculum implementation in schools. The paper concludes that if teachers comply with all the teaching performance standards, effective implementation of curriculum will be achieved.  The paper recommends the study on IEP to assess its effect on quality of education in Bungoma County.
This article reveals the content, purpose of political modernization and its methodological basis in Uzbekistan. The analysis of the main paradigms about political modernization has been carried out. The ways of Uzbekistan in modernization are considered. A brief description of the process of political modernization in Uzbekistan is considered. The studied experience of socio-political thought is necessary to address issues of political modernization in Uzbekistan.
The purpose of this study was to establish the contribution of the community to the development of school projects among ward Secondary Schools in Magu District, Tanzania. The study was guided by Social System Theory. The study adopted a mixed research design.The target population of the study was 1061, consisting of 1 District Education Officer, 20 heads of secondary schools, 20 Ward Education Officers and 20 Ward Executive Officers. Simple random sampling was used to select a sample of 276 community members while 5 school heads, 4 Ward Education Officers, 4 ward Executive Officers and one District Education Officer were purposively selected. Questionnaires and interview guides were used to collect data. Quantitative data were analyzed using descriptive statistics in terms of frequencies and percentages while Narrative Analysis was used to analyze qualitative data. The findings indicated that despite Fee Free education policy still community members contributed to the development of school projects in Magu District mostly in the form of finances. Secondly, it was found that the method of resource mobilization that exist is mainly contributions from parents. The study recommended that the community should be educated on other forms of contribution to foster school development projects. And once the funds are available they should be used prudently so as to motivate community participation.
The research work aims to ask why and there was a youth movement; it would not only be a question of how the student movement began in the world, so this research impacted the international dimension to reflect Türkiye's arrangement of 68 generations of protection of its independence but also of attempting to provide a vulnerability that was born in 1945 and that fits into the intricate field of political depression, emphasizing the difficulty of life in a modernization way.
Educational rights are prime reality for India's millions of children who can be rightfully termed as social categories at risk of exclusion. These children have been deprived of education of minimum quality while some of them remain even beyond the reach of formal schooling. The irony is that their educational deprivation is obtained at the backdrop of India's most enabling constitutional guarantees, judicial and legislatures that are well-equipped to protect and uplift the pathetic existential conditions of these social groups. A conscious neglect of school education in the initial decades of independent India is termed by Dreze and Sen(2013) as a 'home-grown folly'. 1 This study aims to investigate the challenges of the Right to Education Act, 2009 among  Primary School Teachers of Purnea district of Bihar. A descriptive survey is used in the study. The information was gathered from as many in-service teachers as possible working in primary schools of Purnea. A questionnaire with open-ended objective questions was created to investigate teachers' perspectives, challenges, and suggestions regarding the RTE Act. The study's findings revealed a significant gap between policy involvements and how they are actually perceived and implemented in the field.
Mediated by technology, delivered by professionals, and facilitated by moderators, webinars are any online sessions, workshops, and seminars streamed live, recorded, or pre-scheduled times and dates, to discuss a certain educational, business, scientific, or any topic. Webinars often receive a huge attendance or audience from many peers, laymen, or professionals. This paper investigates the use of speech acts in two educational webinars drawing on a pre-observation that presenters and moderators in webinars use pragmatic devices. The paper introduces and defines the research key terms; speech acts, webinars, and online discourse. Then, previous studies, research questions, data, methodology, and limits are presented. The analysis is limited to two American educational webinars. Following data selection, the analysis is conducted according to Searle's (1975) theory of speech acts. The research finds that presenters and moderators in webinars used certain speech acts to express meanings, issue directions, direct sessions, react to the audience, share background demos, and switch topics. Moreover, the presenters and moderators in webinars use speech acts more than other linguistic devices because these forms can easily and clearly communicate meanings and feelings.
This article aimed to identify whether the politicized Yemeni tribes after the unification played a negative role in transforming the building of the unified Yemeni state into a failed state during the rule of late President Saleh's period. Although the peoples of Yemen in the north and south were eager to achieve Yemeni unity and get Yemen out of the focus of conflict and strive towards a more stable reality in which law prevails within the modern Yemeni state, the unity failed. Tribal and political leaders were part of the patronage network that weakened the unified state and its institutions, also creating an unstable culture and obscuring the concept of Yemeni unity, especially in southern Yemen after the summer war of 1994. The Yemeni scene today comes to confirm that Yemeni unity was based on politicized tribal pillars, and therefore the status quo cannot be resolved in the absence of the modern Yemeni state and the continuity of politicized tribal forces. So, this study discusses the Yemeni reality and the accumulations that led it to consider a failed state by highlighting the political stability in the light of the Yemeni institutional capacities.
The study analyzed residents' awareness and patronage of tourism attractions in Calabar. Data for the study were obtained with a structured questionnaire, which was administered to 384 sampled respondents using the systematic sampling technique. The result of the regression analysis (r = 0.893, r2 = 0.797, p = 0.00, α = 0.05) shows that the relationship between awareness and patronage was significant at the 5% level of confidence. Therefore, the level of patronage of the existing tourism attractions in Calabar depends meaningfully on the level of awareness. Calabar Carnival had the highest proportion (98.6%) of awareness (370) to patronage (365), while Brickfield Prison Wall recorded the lowest proportion (43.6%) of awareness (225) to patronage (98). The study also revealed that the major medium of residents' awareness of the tourism attractions was by friends and families, which accounted for 36%. Furthermore, the major constraints militating against residents' patronage of the tourism attractions were poor publicity of tourism attractions, insecurity, and poor residents' purchasing power amongst others. The authors recommend that adequate publicity of the existing tourism attractions should be conducted using various channels to increase patronage. Also, all identified constraints militating against residents' patronage of the existing tourism attractions should be addressed adequately to put tourism development in Calabar on a sustainable path.
Women empowerment is considered as the powerhouse of global development. This study attempted to explore the perception of husband and wife regarding the effects of women empowerment on family life. The research was conducted at three upazila of Khulna district, Bangladesh. Data were collected from purposively selected ninety (90) respondents using a structured questionnaire during January 2023. The focus variable named as effect of women empowerment on family life was measured using a 5-point rating scale. Results indicated that, education is the key factor of enhancing women empowerment. The findings exposed that almost two-third (64.4%) of the male respondents perceived medium effect of women empowerment on family life while majority of the female counterparts (60%) perceived high effect respectively. However, majority (95.6%) of the male respondents opined that women empowerment generate more income to the family whereas most (98.3%) of the female respondents agreed that women empowerment is very effective in giving decision making power. It was found that respondents' age, educational qualification, organizational participation, training exposure, cosmopolitanism, knowledge, and attitude demonstrate significant relationship with the focus variable. It is high time to change our attitude towards women empowerment for overall development of the world.
The main objective of this article review is to evaluate the existing literature on disciplinary history teaching. The evaluators choose one reputable article written by well-known Professor Rantala and PhD student Khawaja, entitled "Prospective Primary School Teachers' Confidence in Teaching Disciplinary History." The reviewers of this article chose this article because both authors raised a very influential and needed curriculum issue. I have been devoted to going through all the points in constrictive forms, starting with introducing the article, surveying previous research, summarizing results, and discussion. Finally, the evaluator provides his personal view on how it applies and provides questions to the article writers.
Since the introduction of psychology as an institutionalised course worthy of study at the University of Ghana in 1963, it continues to gain ground, especially through the proliferation of private psychology centres across the country. Drawing from both primary and secondary sources in the form of oral interviews with psychologists and written documents, this paper traces the historical development of some private psychology centres in the Greater Accra Region of Ghana. The paper identifies understanding the core psychological conditions of cases, clients' misunderstanding of the role of psychologists, lack of patronage, and referral inconsistencies as the major challenges debilitating against private psychology centres in the study area. Apart from the fact that there is a total absence of fully-fledged public psychology centres in Ghana, the study concludes that there is a strong need for societal orientation about psychology services by constituted authorities.
The aim of this study is to analyse the impacts of citizenship education (CE) in enhancing positive behaviours among students. The study particularly explored the perceptions of students on this in a private school in Dubai. Theory of global citizenship and social theory of global citizenship were influential in this study to form necessary theoretical understanding. A questionnaire with quantitative and qualitative questions were distributed among high school students to measure the impact of citizenship education in nurturing students' positive behaviours. The findings of the research indicate that CE helps learners improve their interpersonal capabilities and their positive behaviours. The study contents that citizenship education enhances positive learning experience among students. As this is a single case study focusing on one institution it is difficult to generalize the findings. The study claims that CE is an important element that can enhance learners' achievement. It is concluded that CE increases learning, making important decisions, and improving personal learning.
Some of the most commonly used technologies for chemistry education are web-based, mobile, and computer software applications. Thus, this study investigated the teachers' perceptions of the efficiency of web-based, mobile, and computer software applications in facilitating the teaching and learning of chemical concepts. The study adopted a survey research design to cover a large, scattered population in the shortest possible time. The survey was developed from the literature of related studies. About 266 responses were retrieved from an estimated population of 700 chemistry teachers in both public and private secondary schools, polytechnics and monotechnics, colleges of education, and universities across the Sokoto metropolis. The obtained data was computed and analysed using the Statistical Package for Social Sciences (SPSS) version 25. The result of the study reveals that chemistry teachers considered web-based, mobile, and computer software applications efficient in delivering effective classroom and laboratory instructions.